What can be done with brownfield sites?
Here are a few examples of brownfield transformations in Ontario:
London Lane – Guelph
This redeveloped brownfield site was once used by a cable manufacturing company. A significant amount of remediation was needed to address contamination from copper. The site is located near an older single-family residential neighbourhood near downtown Guelph and a local park. The 3.2 hectare development, completed in 2001, included 105 condominium townhouses and 22 semi-detached units.
Neighbours expressed concerns regarding the site clean-up, the density of the development and traffic impacts. However, the developer began public consultations early through open information meetings, and then addressed the concerns that were raised.

Link to CMHC Fact Sheet: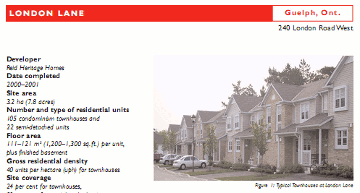 Portland Park Village – Toronto
In this 2001 project, a 0.8 hectare former parking lot in downtown Toronto was redeveloped into a residential neighbourhood. This project is a good example of urban intensification, as it is a complex of 74 stacked townhouses and 119 condominium apartments, with an attractive courtyard. These new homes added diversity to a community that had previously been a mix of industrial and commercial businesses. Brownfield remediation was necessary because contaminants had leached into the area from a nearby scrap yard.
This new community is close to the centre of downtown Toronto, transit, entertainment, shopping, restaurants and the financial district, as well as to a number of parks.

Link to CMHC Factsheet: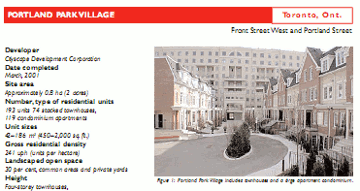 Wellington Square – Cambridge
Wellington Square was a severely contaminated site with a long and diverse industrial history that included a brewery, steam saw mill, rail depot and headstone manufacturer. Most of the contamination was from a foundry that operated for many years and left behind heavy metals and hydrocarbons. The site is located in the downtown core of the Galt community in Cambridge, close to public transportation, shopping and facilities for education, recreation and culture.
Completed in 2003, this 2-hectare area is now the site of 82 townhouses that have contributed to the rejuvenation of this downtown area. These homes replaced a derelict and under-used brownfield site. The development increased the population in the area, providing a market for local businesses.

Link to CMHC Factsheet: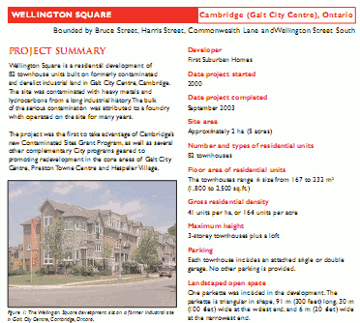 More:
What are brownfields?
What are the benefits of brownfield redevelopment?
What are the risks to developing brownfields?
What are the barriers to developing brownfields?
How is brownfield remediation regulated in Ontario?
How can members of the public get involved in local brownfield redevelopments?
How can I learn more about brownfield redevelopment?