What are the benefits of brownfield redevelopment?
Brownfield redevelopment ensures that contaminated land is cleaned up and restored.
Many existing brownfield sites are contaminated as a result of past industrial or commercial uses. Depending on what these sites were formerly used for, contaminants may include a range of toxins, such as petroleum, metals, asbestos, pesticides, PCBs and solvents.
These contaminants may create significant health and safety risks for those who live and work close to brownfield properties. When abandoned brownfield lands are left neglected, contaminants may migrate off-site, creating hazards for others nearby.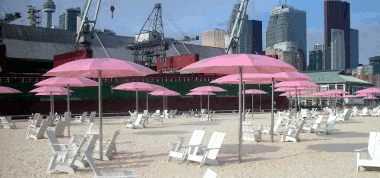 Brownfield Redevelopment: Sugar Beach in Toronto

Even where soil and groundwater at a brownfield site are not contaminated, deteriorating buildings and surface debris on these sites may still pose health and safety risks, and have a negative impact on property values and on a neighbourhood's image.
Cleaning up these sites helps to improve the quality of the environment in the community and removes real and perceived threats to health and safety.
Cleaning up brownfields can be expensive, so contamination is unlikely to be removed unless a site is intended for a new use that makes the clean-up financially worthwhile. Municipalities have begun to see the potential for brownfields to improve communities and make them more sustainable as the population grows, and may offer incentives to promote brownfield redevelopment.
Communities may experience many environmental, social and economic benefits from brownfield redevelopment that:
Removes actual and potential sources of land, water and air contamination


Recovers desirable locations, allowing for smarter growth through urban intensification


Removes or renovates abandoned and derelict buildings, decreasing the risk of injury, vandalism and arson


Preserves historical landmarks and heritage architecture


Beautifies urban landscapes


Revives older urban communities and surrounding areas


Locates new development in areas where better use can be made of existing municipal infrastructure and services such as transit


Increases property assessment values and the resulting tax base, leading to increased revenue for governments


Reduces urban sprawl


Preserves greenfield land, which may be productive farmland or environmentally significant land.
More:
What are brownfields?
What are the risks to developing brownfields?
What are the barriers to developing brownfields?
What can be done with brownfield sites?
How is brownfield remediation regulated in Ontario?
How can members of the public get involved in local brownfield redevelopments?
How can I learn more about brownfield redevelopment?